Successful collaboration starts with optimal communication, in any language.
Courtesie is a translation agency in the Dutch city of Almere. Its aim is to remove language barriers between parties; to provide solutions that optimise communication. This opens new doors and creates the conditions necessary for doing business worldwide. It is important that identity is not affected by language. Our slogan, 'Language is identity', reflects the fact that an individual or organisation can present itself consistently and can communicate the same way, in any language.
Courtesie offers you state of the art translation and interpreting services in more than 100 languages. Courtesie specialises in legal, financial, medical, technical, marketing and real estate translations. Our oral interpreting services are supported by an extensive network of sworn interpreters in every modern language, each equipped with essential knowledge of the relevant, professional field. Our service is always tailor-made to your individual requirements. Courtesie is your partner for all translation needs.
Our standards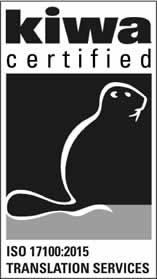 Available 24/7
All translation services, training and support are under one roof
Sworn translators and interpreters
Only native speakers
Confidentiality agreements
ISO 17100 certified
Our translators
Courtesie works with specialised translators in more than 100 languages.
Our translators are professionals with solid track records in their fields. We are in direct contact with translators in more than one hundred languages. Their innate quality, commitment and knowledge of the target-language speaker's culture guarantee the perfect translation for the target group – be they solicitors, notaries, financial managers, doctors or technicians.
All our translators are native speakers and have extensive knowledge of your field. Our proof readers also meet this profile. So our translations are always closely aligned with the target group. In conclusion, confidentiality is always guaranteed and can be recorded in a specific non-disclosure agreement.
Our interpreters
Courtesie has an extensive network of sworn interpreters in every modern language. They are specialists in your field, with experience in your sector and with knowledge of the culture of the people you speak to. Simultaneous and consecutive interpreting can be provided, with or without equipment for use by one or more persons simultaneously. This depends on your wishes and the relevant situation. We can also simultaneously provide several interpreters, for every conceivable occasion – from court hearings and congresses to notarisations and business meetings.
Our business experts
Our business experts will be happy to assist you in your contacts with foreign parties. We offer an extensive network of locally-operating office managers, lawyers, consultants, project managers, logistics and administrative assistants and other professionals. They know the local language and culture and will be happy to be of service.
We are here for you 24/7, even on weekends and during holidays!
Would you like more information? Don't hesitate to call +31 36 7602477 / + 31 6 11199599 or use the form below. You will receive a reply and/or specified offer for your desired translation within one hour!
When you have confirmed, we will immediately get to work for you. You will receive the translation(s) digitally and/or by mail, whichever you prefer.